Our ever popular wall mounted radial airer is the ideal companion to a ceiling mounted drying rack, or a good clothes drying solution for the smaller laundry.
£49.99


Add a pulley operated hanging clothes rail to your laundry and dry your garments on hangers, whilst suspended from the ceiling.
£45.99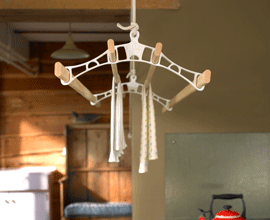 Part of the British household for over 100 years, the classic clothes airer is a perennial favourite and the work horse of laundry rooms around the world.
From £49.99