This laundry clothes brush is ideal for removing unwanted fibres and stains prior to a wash, helping you to save time and money on your laundry.
£14.99
Made from sustainable beech with a durable steel spring, these clothes pegs are sold in packs of 20 and come with their own draw string storage bag.
£7.99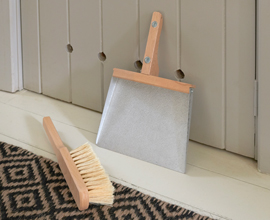 This dustpan and brush is made from beechwood, tampico bristles and a galvanised steel tray, perfect for sweeping up around the home.
£17.99