Sold in sets of three, these animal engraved children's nail brushes are made from FSC certified beech with plastic free plant-based bristles.
£9.99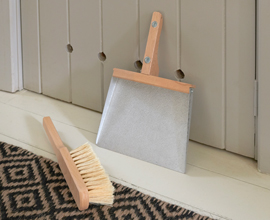 This dustpan and brush is made from beechwood, tampico bristles and a galvanised steel tray, perfect for sweeping up around the home.
£17.99
Ideally sized for sweeping crumbs and powder spills off any surface, this dustpan and brush set are held together with a magnet when not in use.
£11.99